Pemberton Technologies is alive and kicking once again. 
The Delivery Llamas have been brought back online and will be running a partial capacity for now. Orders will be filled a quickly as possible but minor delays should be expected. But hey, we are back!
If you are having issues with the new site please let us know pem_tech (at) yahoo.com.
Thank you!
Flash back with me, if you will, to a time when handsome, brave, wide shouldered, square jawed, homogenized white guys in jump suits made the universe safe for all mankind. Heroes such as Captain Video, Flash Gordon, Tom Corbett and Buzz Corry came to the rescue every week, thrashing bad guys and thrilling youngsters across the land.
From out of that Wonder Bread World of the 50´s, Pem-Tech brings you the coolest Science Fiction spaceships of all time: Sleek, silver, beautieslike the Space Ark, M2–Mars Challenger and 3FNC as well as the glorious golden hotrods like Bucky Jones Space Cadet.
Pem-Tech has also begun offering more traditional sport rockets like the Kraken and the upcoming Screemin´ Green Meenie, for those of you not enamored by Science Fiction.
Pem-Tech kits are available in [LPR] low power (A, B, C and D black powder motors), [MPR] mid power (E, F, and G Ammonium Perchlorate motors) and [HPR] high power (H and I motors).
Pem-Tech has something for everyone, from the first time builder to the seasoned BAR looking for a challenge. So, trip on over to the Kits page and get the Pem-Tech rocket that is right for you.
—————————————————-
Behold, the latest product from our staff of highly deranged designers and blood thirsty llamas.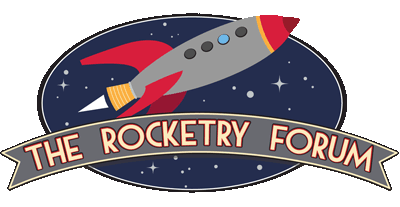 After centuries of secret negotiations deep in the bowels of the Earth, The Rocketry Forum (www.rocketryforum.com/) and Pemberton Technologies are proud to present our most diabolical achievement to date, the TRF Logo Rocket!
Only $17.00 plus shipping
Destructions: PDF Format